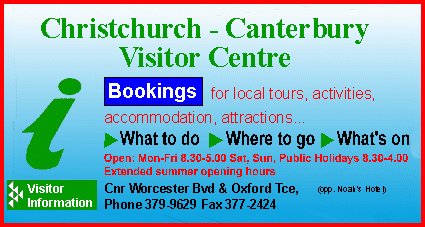 Advice & Bookings

Advice on sightseeing, accommodation, food, entertainment, activities, adventure sports, walks, drives, shopping, nightlife - everything in Christchurch and Canterbury.
Bookings for local tours, activities, accommodation, and attractions; including for NZ Rail, InterCity, InterIslander, Mt Cook Land & Air Lines, Ansett NZ.

---
We Have It All!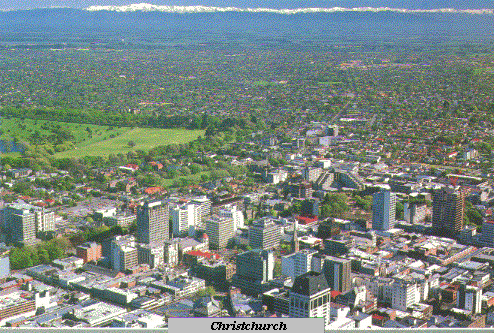 We call it the Garden City, the city that shines.
You'll find it vibrant - the gateway to a southern world of clean natural beauty, action and excitement.

Our moderate climate offers the best in winter (ski-fields close by) and summer sports...a location for all seasons!

The South Island's largest city boasts graceful parks, rivers and expansive beaches, providing a dazzling backdrop to lively new buildings mingled with those of historic grey and white stone.

Festivals are an important part of Christchurch...Floral, Romance and Wine & Food are just a few. Summertimes events and Cup Carnival Week add their own special excitement.

Within an hour or two's drive, explore our natural clean, green outdoor playground called Canterbury where the alpine grandeur of the Southern Alps runs all the way down to the sea.

White water rivers, soaring snow-capped peaks, a beautiful coastline of peninsula and beach... Canterbury's outdoor way of life is both invigorating and relaxing.

---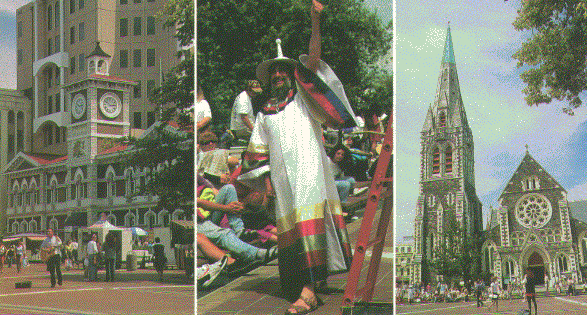 Cathedral Square, Christchurch - with the Wizard in full flight...
---
Population:
New Zealand: 3,524,800
Christchurch City: 318,000
Canterbury Regional Council Area: 458,800

Climate
Altitude: 7 metres above sea level
Sunshine Hours: 1,985 p.a.
Temperature: Maximum 34'C / Minimum -5'C
Annual Rainfall: 668 mm p.a.